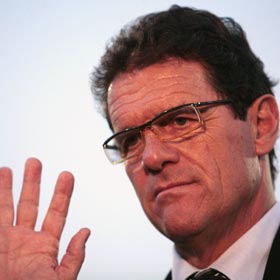 Fabio Capello is the new England boss. Hopefully he cannot fail do better than the last chap. But what do we really know about our Italian saviour? Will he be able to get the best out of the 'Golden Generation'? In terms of his man management style it is difficult to say, but from looking at his previous sides it seems the former Real Madrid, Juventus, AC Milan and Roma boss favours a pretty distinctive tactical set up.
Each of his last three title winning sides (Roma and Juventus in Italy and Real Madrid in Spain) have been based around a 4-4-2 formation with two defensive midfielders deployed in the centre.
In all three sides, the king-pin of the team was actually the same man - Brazilian international Emerson - whose job was simply to protect the back four. Rather like Claude Makelele at Chelsea, Emerson is quite a limited player in terms of skill, however his discipline, ability to read the game, and tenacity in the tackle made him ideal for playing this 'road-blocking' position.
Generally Capello chose to partner Emerson with a slightly more creatively minded player, but one who would still be strong in the tackle and carry his weight in the centre. The best example of this sort of player is probably Patrick Vieira who played alongside Emerson in Capello's 2005-2006 title winning side at Juventus.
Vieria offers considerably more than Emerson going forward, but is not the sort of player who will be going out to get ten or fifteen goals in a season. Players like Vieria have the ability to play the Emerson role, but offer a little more as well - usually in terms of starting attacks.
Playing with two defensive minded midfielders has the obvious benefit of making your side exceptionally difficult to break down, but relies heavily on having talented attacking players in wide areas.
Capello achieved back to back titles with Juventus in 2005 and 2006 in part thanks to the extraordinary talent of Pavel Nedved who used the protection offered by Vieira and Emerson to influence the game hugely from the left wing, whilst at Real Madrid last year it was David Beckham who eventually had the intelligence to benefit from the freedom Capello's preferred system offers.
However being a wide player in a Capello side is clearly a tough task. With two 'sitters' in the centre, the wide men are charged with covering a huge amount of the pitch and carry a lot of the creative responsibility. Often therefore, Capello relies on hugely athletic full backs to provide width, and perhaps more importantly, a striker who drops deep to link midfield and attack.
At Juventus in 2005 and 2006, Zambrotta spent most of his time playing both left back and left winger, whilst at Roma in 2001 Cafu did the same on the right. However in both cases Capello also had a striker (Raul at Real and Totti at Roma) who could also support the midfield and would usually operate in front of the opposition's back four.
So how will this all work for England? The closest any Premiership side has come to replicating Capello's preferred formation was the Arsenal 'Invincibles' side of 2003-2004 where Vieira and Gilberto played central midfield with Pires and Ljungberg on the wings. In this case the wide men were supported by the pacy Lauren and Ashely Cole from defence as well as the hugely talented Dennis Bergkamp in attack.
However, even back in 2002, the only English regulars in the Arsenal side were Sol Campbell, Martin Keown and Ashley Cole and generally it has to be said that English players are not used to operating with two holding midfielders.
Thankfully, Capello will have a firm defensive base from which to start building his England side with John Terry, Rio Ferdinand and Ashley Cole probably among the top five players in the world in their positions. Right back may prove a little more problematic with Gary Neville, at 32, unlikely to make the next World Cup. Capello may fancy a punt on Micah Richards, although full back does not look like his best position.
In midfield, Owen Hargreaves looks set to become one of the first names on the England team sheet, protecting the back four as he does so well for Manchester United. Choosing a partner for Hargreaves could prove more difficult, although I have a feeling we may see Steven Gerrard shackled into a more disciplined role – which given his headless chicken performances under McClaren may well be a good thing.
Another possibility may be for Gerrard to play the right sided role, just as Nedved played on the left under Capello at Juventus, although much will depend on whether a suitable successor to David Beckham can be found - Bentley, Lennon and Wright-Phillips have all seeming fallen short so far.
In the centre, players such as Gareth Barry, Michael Carrick, Scott Parker and Joey Barton may interest Capello, although the feeling has to be that they all lack the quality to be England regulars - perhaps with the exception of Parker. Lampard looks set to be a player to lose out, although he could potentially play in front of the midfield as the link man.
In Joe Cole, we may just have the ideal candidate to play the left sided role, although Ashley Young may be a possibility in the future, whilst up front Wayne Rooney should be able to play the link role with aplomb. Generally Capello has favoured an out and out goal getter as his second striker, a role which – fitness permitting – should suit Michael Owen perfectly.
Finally, as far as the goalie goes, I think he'll stick with Robinson. So far as I can see the England goalkeeping crisis is just a media myth which hopefully Capello will see through straight away.
Importantly though, Capello will need able cover if he is to stay consistent in his tactics. McClaren had terrible luck with injuries, but failed to establish his preferred cover for stars like Michael Owen. Capello cannot afford to make the same mistake.
Overall though, the new boss appears to have plenty of talent at his disposal – certainly more than enough to mould the team in his preferred manner. England under Capello is unlikely to be exciting, and there will be a fair fews rows and a fair bit of contraversy along the way, but whatever else, at least we have a 'proper' boss now.
Capello's title winning sides of the 00's:
Real Madrid 2006-2007
Casillas, Cicinho, Ramos, Cannavaro, Roberto Carlos, Beckham, Diarra, Emerson, Guti, Van Nistelrooy, Raul
Juventus 2005-2006
Buffon, Zebina, Thuram, Cannavaro, Zambrotta, Camoranesi, Vieira, Emerson, Nedved, Ibrahimovic, Trezeguet
Roma 2000-2001
Antonioli, Cafu, Samuel, Mangone, Rinaldi, Candela, Tommasi, Emerson, Nakata, Montella, Totti
In the Milan period 1991-93 this was a typical Capello formation.


--------------------------Rossi---------------------------

--Tassotti---------Baresi-----Costacurta------------Maldini--

--Evani----------Albertini----Rijkaard---------------Donadoni

-------------Van Basten-----Gullit--------------------

other players available, F.Galli, Ancelotti, Simone, Massaro, Cudicini, Boban, Savicevic, Papin, Laudrup, Raducio, Nava, Lentini.

1993-95

----------------------- Rossi----------------------

---Panucci---------Baresi-----Costacurta------------Maldini--

--Boban----------Albertini----Desailly---------------Donadoni

-------------Savicevic-----Massaro--------------------

Other players, F.Galli, Sordo, Tassotti, Eranio, Simone, Lentini, Ielpo, Orlando


--------------------------Rossi---------------------------

--Panucci---------Baresi-----Costacurta------------Maldini--

------------Boban------Albertini---------Desailly------------

--------Savicevic-----Weah-------R Baggio--------------------


other players, Ielpo, F.Galli, Sordo, Viera, Di Canio, Simone, Futre, Eranio, Tassotti

In these periods Capello won 4 Serie A titles 1992, 1993, 1994, 1 champions cup 1994, 3 Italian super cups, 1992, 1993, 1994 and a european super cup 1994.