Harry Redknapp often tries to mask his tactical approach but he is following in the footsteps of Brian Clough as he does so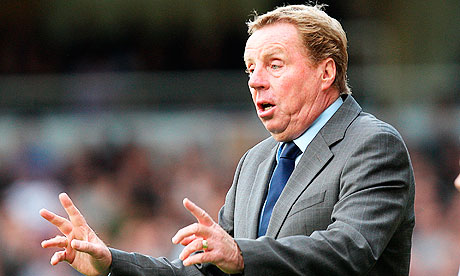 Mention Harry Redknapp and tactics in the same breath and the general reaction tends to be a snigger. Either that or those who refuse to believe football is a game that should ever be given more than cursory thought get all excited and claim that Redknapp's successes prove that talk of tactics is all nonsense and that you should just pick your best 11 players and tell them to get on with it.
Neither response makes much sense. Tactics, for something so often written off as boring and nerdish, seem to provoke an oddly emotive response, as any glance through the comments under previous Question pieces will show. Talking about them, apparently, is taking the fun out of the game, over-intellectualising it, robbing it of its soul, football's equivalent of somebody stopping the tape near the end of Casablanca or Cinema Paradiso and explaining that it's all just pheromones, actually.
Presumably nobody, though, actually thinks a team of 10 centre-forwards and a goalkeeper would win a game; once you've accepted there is a need to balance defence and attack, a tactical element has been introduced. Equally, it would be absurd to claim tactics are the only thing that matter, but they provide the basic structure of each game and, alongside ability, motivation, fitness (physical and mental) and luck, are among the key components that determine the result of a game. If Redknapp really is a tactical klutz, he must have had an awful lot of luck.
He is not one of the game's theoreticians, that's true. He is not a Viktor Maslov, a Rinus Michels or an Arrigo Sacchi – but so what? He does what he does. He is probably a better motivator than he is a tactician, just as Rafael Benítez is a better tactician than he is a motivator. But that doesn't mean Redknapp is clueless, even if it at times it suits him to set himself up as the bluff English alternative to all the sophisticated foreign mumbo jumbo, a line that always plays well with the media he courts so superbly.
That is not to suggest, though, that Redknapp is secretly issuing minutely detailed tactical instructions behind the scenes. "There are no long and boring speeches about tactics, like I was used to at Real Madrid," Rafael van der Vaart said in a recent interview. "There is a clipboard in our dressing room, but Harry doesn't write anything on it. It's not that we do nothing – but it's close to that."
In his suspicion of theory, Redknapp comes from a long English tradition that extends far beyond football. "Our habits or the nature of our temperament do not in the least draw us towards general ideas," as John Stuart Mill put it. In football, the greatest manager in that strand of English anti-intellectualism was Brian Clough.
The Clough paradigm
Clough was always scathing of those guilty of what he saw as "over-complicating" the game, and regularly used the term "tactics" dismissively, but with him it seems to have had specifically negative connotations; to have referred to stopping the opposition rather than how his own side played. "Tactics," he insisted in Walking on Water, "played very little part in my method of management. I concentrated 90% on how my team played, in preference to wondering about how the opposition would set out their stall."
He may have thought tactics was a dirty word, something fit for only Italians or Don Revie, but the idea he just sent 11 players out on the field and hoped for the best is nonsensical. Although he usually affected indifference to the opposition, there were times when he took specific action to counter them. Alan Durban, for instance, was once given specific instructions to cut out the supply from Mike Bailey to the left-winger David Wagstaffe in a match between Derby and Wolves. In Nottingham Forest's 1980 European Cup final against Hamburg, meanwhile, with Trevor Francis injured, Clough opted to deploy Lee Mills as a fifth midfielder, helping to stifle Kevin Keegan.
Those are micro examples, but Forest's basic style after winning promotion in 1977 was decided during a pre-season friendly against Shepshed Charterhouse, in which Martin O'Neill's performance in a tucked-in position on the right, with John Robertson wide on the left, persuaded Clough that a lop-sided hybrid of 4-3-3 and 4-4-2 was the future. Terry Curran, a right-winger who had been a regular until injury in the promotion season, never played another game for the club. What was that decision rooted in, if not the tactical realisation that fielding two out-and-out wide men was unworkable in the First Division and that, in O'Neill, Forest had a player who could offer balance?
Peter Taylor always insisted that he and Clough discussed tactics regularly, and had done since their days as players together at Middlesbrough. One of their great gifts was their ability to boil that down into simple instructions. They didn't believe in drawing diagrams on blackboards, and they certainly didn't, as Revie did, hand out dossiers on the opposition. "Telling them how to play took no time," Taylor said in his autobiography.
He explained what those instructions would be at Derby. "To [John] O'Hare it was: 'Hold the ball no matter how hard they whack you.' To [Kevin] Hector: 'Watch O'Hare. You've got to be ready when he slips that ball to you.' And to [Alan] Hinton we didn't say any more than: 'Stay wide.'" It sounds simple, and each individual component was, but multiply those components together and the total was devastatingly effective.
During games, it was simply a question of reinforcing those messages. "I'd shout reminders," Clough said, "adjustments when they occasionally got themselves out of position, which is easy to do in the heat of the moment. I'd emphasise the need to keep the ball and pass it forward whenever possible." It sounds simple – it was simple – but it was also a clear tactical manifesto.
Taylor's conception of the game, he explained in an interview in this newspaper in 1972, was – like so many of his generation – inspired by Hungary's 6-3 win over England at Wembley in 1953. Seeing the Brazilian side Santos play a friendly against Sheffield Wednesday in 1962 convinced him of the importance of attacking full-backs, and led Derby 10 years later to break the British transfer record to sign the Leicester City full-back David Nish because he was comfortable advancing with the ball. Viv Anderson continued the theme at Forest.
"The ability to command space is vital in a good defensive system," he said. "By that I mean that a player who is on his own when the opposition has the ball must be poised and capable of assessing whether he should commit himself or funnel back. [Igor] Netto of Russia was the first player I noticed with this. Dave Mackay has it, so have Bobby Moore and Terry Hennessey ... Then there is the ability to play the ball accurately. At Derby everybody has it. It is essential because the game has got to flow. We believe in playing football right from the back. We do not want our forwards to have a service of high and hard balls out of defence which are impossible to control."
None of that requires complex diagrams or lengthy explanations to players, but it is tactics nonetheless. Teddy Sheringham tells of how he was dropped by Clough at Forest and watched the next match with him from the bench. Listening to Clough during the game, he said, he realised the importance of a centre-forward holding the ball up to relieve the pressure on his defence, rather than attempting flicks that might break through the opposition, but might equally surrender possession. Again, just because Clough wasn't scribbling away on a whiteboard doesn't mean he wasn't imparting tactical instructions.
Redknapp in practice
Redknapp is so much of the lineage of Clough that he even deploys the same percentages. "You can argue about formations, tactics and systems forever, but to me football is fundamentally about the players," he began a column in the Sun. "Whether it is 4-4-2, 4-2-3-1, 4-3-3, the numbers game is not the beautiful game in my opinion. It's 10% about the formation and 90% about the players. If you have the best ones and they do their jobs, then they can pretty much play any way you want them to."
Which, leaving aside the question of how, when things are so interconnected, you can separate them to make up such a statistic – or even the irony of using a number to denounce the use of numbers – is fair enough. Of course the best players usually win. Besides, the formation is only part of a team's tactical set-up, something Redknapp acknowledges by adding the caveat "if they do their jobs". Those jobs, whether it is acknowledged or not, are tactically determined. Even his famed instruction to Roman Pavlyuchenko to "fucking run about a bit" let the striker know he wanted him to play as a mobile front man, looking to drag defenders out of position, and wasn't particularly different in essence to the instructions Clough and Taylor handed out at Derby.
The same applies to the comment John Giles makes in The Football Man that was helpfully quoted in the comments section last week. "The fact remains that the ball is the most important thing on the pitch," he said, "that good players will take up correct positions in relation to it, while bad players will continue to take up poor positions, regardless of tactics or formations." But to determine whether a position is good or bad itself requires tactical understanding.
And whatever Redknapp says, he has proved himself tactically astute at times this season. In the away leg of the Champions League play-off, Spurs were unsettled by Young Boys' high pressing, and could have been annihilated before half-time. Redknapp withdrew Benoît Assou-Ekotto to add an extra holding midfielder in Tom Huddlestone, dropping Gareth Bale back to left-back, which steadied the ship, then brought on Niko Kranjcar for Modric, giving Spurs a player who naturally cuts in from the left, adding midfield solidity and creating a pathway for Bale's surges. 3-0 was transformed into 3-2, a deficit Spurs rapidly wiped out in the second leg.
Against Aston Villa, Spurs, having begun with a 4-4-2 with Van der Vaart on the right and Peter Crouch and Pavlyuchenko as twin strikers, trailed 1-0 at half-time. Off came the Russian, on went Aaron Lennon, while Van der Vaart, who had been drifting infield anyway, took up a central role just behind Crouch. With a direct opponent, Stephen Warnock was pinned back, and Villa lost much of their thrust down the left. Van der Vaart, involved in more dangerous areas and revelling in playing off Crouch, scored twice.
Then at Arsenal a week ago last Saturday, Redknapp made the opposite change, bringing on Jermain Defoe for Lennon and pushing Van der Vaart out to the right from a central role. This time, of course, Redknapp was happy to talk tactics. "I changed it at half-time, opened it up even more really – stuck Rafa out on the right, and brought Jermain on to give us two targets upfront," he said. "In the first half I played with two wingers, and we were stretched … I've got a front man up there, with Rafa in behind, when we lost possession they outnumbered us in midfield and played through us and played around us, and we had to narrow it up in the second half."
The ability to turn games round has been a feature of Tottenham's season. That speaks volumes for their self-belief and powers of resilience, but Redknapp must also take credit for his tactical changes. Of course the corollary to that is to ask why they so often fall behind; and perhaps it's that Redknapp is better at intuitively understanding a game and feeling what needs changing than he is at envisioning a match beforehand.
How far the open, attacking approach can carry Spurs in Europe remains to be seen; Manchester United were once similarly expressive, even won a treble by being so, before one too many goals conceded against the run of play finally convinced Sir Alex Ferguson into caution. But whatever happens to Spurs in the Champions League the idea that Redknapp exists in a world remote from tactics is just wrong.
____________________________________________
By Thomas Levin
Harry Redknapp is the first to admit that he is doesn't do football tactics; calling him an intelligent tactical master will probably offend him as much as calling him a 'Wheeler Dealer'. His view is that you should pick the best eleven players and tell them to go on the pitch and run around, an approach Rafael van der Vaart proclaims has been the secret to his good form:
"There are no long and boring speeches about tactics, like I was used to at Real Madrid. There is a clipboard in our dressing room but Harry doesn't write anything on it."
Redknapp doesn't share the wisdom of his decision with his players, but does that really mean that Harry Redknapp has built a solid career in top flight football without ever really giving much attention to tactics?
Harry seems quick to distance himself from any intelligent decision making, making websites such as this one or Zonal Marking to be nothing more than futile exercises over-complicating a game with 22 men and one ball.
But Redknapp is not as stupid as he wants to make himself out to be. Of course he is tactically aware; the capture of van der Vaart demonstrates this perfectly. His frivolous spending of course could explain the Dutch playmaker's introduction to the Premier League, but it has made them a stronger force as they look to compete in Europe on a regular basis and has transformed them into a side tipped to compete for the title.
The domination of the midfield being so important in modern football, has forced the most English of English managers to change his formation from a 4-4-2 to a 4-5-1, especially when up against the elite of Europe.
Tactics can often be explained by finding patterns of play. If left to the players themselves even the best of men will be lost without instruction or organisation. The changes at the Emirates in the London derby, putting van der Vaart on the wing, utilising his natural tendency to come inside narrowed the pitch and made it much more difficult for Arsenal to play their passing game. Spurs threw more forward to attack Arsenal and their inability to see out a lead and their dodgy defence crumbled.
What about the long balls to target man Peter Crouch who knocks it onto the deep runs of van der Vaart? Would this not be classed as a tactical decision? Utilising the players he has and giving them roles that would give synergy to their strengths and attack the weaknesses of the opposition.
To me Harry Redknapp's "tactics don't win you games" comments are nothing more than fitting in with a culture that is thankfully slowly dying in football, that of a fear of the educated and the intelligent in football. Long has it been feared in the game where the managers intuition has ruled. The Premier League is quickly becoming a place of in-depth analysis, crunching of numbers and close consideration of everything that happens on and off the pitch. Even Sam Alladyce can pride himself on using the information in front of him to get more out of his players.
Football isn't won solely on tactics, but it is one part of a huge strategy that is taken into consideration by all managers when their team takes the football pitch, and just turning up with a team sheet won't cut it.
By keeping things simple and recruiting good players, allowing them to play their natural game (Harry has rarely tried changing the way a player plays his football) Redknapp is showing his man-management skills. Not letting them worry about the bigger tactical picture, but on letting them be free to do what they enjoy.
While Harry's tactical astuteness is as good as any top Premier League boss, he picks a squad of players that can play the system well. He can identify ready made players who will adapt to a successful way of playing football. This may be one of the reasons why he has very rarely brought through young players up the ranks.
I am not Harry's biggest fan but I think we need to give his tactics credit, even if he refuses to acknowledge them.