Peter Fraser looks at Lucas Leiva's transformation from boo-boy to midfield lynchpin at Liverpool
It was late in the second half at Stamford Bridge and a grimace of personal disgust shot across the face of a mild-mannered Brazilian in a demonstration of personal frustration at surrendering the ball.
A tackle-back and possession was immediately regained in a snapshot of the mindset ofKenny Dalglish's
revolution. Amid the focus upon the act of fate which saw £50million striker Fernando Torres making his Chelsea debut against his former club, the man in question was Lucas Leiva. Liverpool's No.21 demonstrated why he has emerged as a lynchpin.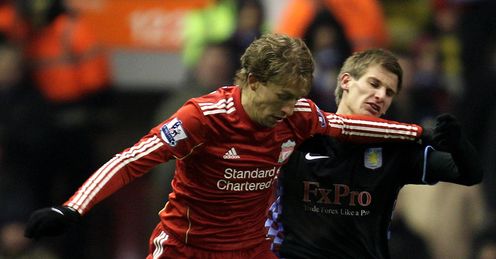 Martin Kelly, Dirk Kuyt, Daniel Agger, Raul Meireles and, of course, Jamie Carragher
andSteven Gerrard
are to list six names from the 13 heroes for those in red on Sunday, when Torres was brutally outplayed in the wake of what has been labelled an act of treachery. But the transformation of Lucas deserves special mention.
The 2007 arrival from Gremio is often used as a label for the faults in the Liverpool reign ofRafa Benitez;
a mistake in the transfer market; a square peg for a round hole. But the former Anfield boss was always rigorous in his defence of a player upon who he spent £6m and once announced that 'people just don't know how good Lucas is'.
General consensus is that among the wretched 12 months that was 2010 for Liverpool, Lucas was the man who stood out as the club's best player. While team-mates and managers wilted around him, the now-24-year-old showed spirit for the fight as sceptics and opponents circled like vultures.
Trust
The man from Dourados, a city in the south west of Brazil, had presumably been hardened by the barrage of negativity he had been forced to shoulder since crossing the Atlantic almost four years earlier. Lucas himself told skysports.comin an interview conducted in March 2010: "I don't know why the criticism started with me, but some people just do not like me."
Lucas arrived at Anfield as an attacking midfielder, who made late runs into the box and essentially represented a Brazilian version of captain Gerrard. But Benitez decided he would be best deployed in the responsible holding role, having never trusted Gerrard to fill such a position. The 2007 Merseyside derby at Goodison Park
was famously an illustration as the hot-headed Gerrard was substituted by Benitez in favour of Lucas, who went on to secure a match-winning penalty.
The sale of Xabi Alonso
to Real Madrid led to a regular first-team role for Lucas alongside Javier Mascherano,
who has since joined Barcelona. However, the arrival ofRoy Hodgson
in the summer of 2010 seemed set to spell the end of his Liverpool career. He was told he could leave if he wanted and did not seem to feature in his new manager's plans. But the fighting spirit, which is not always evident in South American imports to the Premier League, again shinned and a first-team place was reclaimed.
Hodgson has gone, Lucas remains. He is clearly an integral part of Dalglish's plans, as well as inheriting Brazil's famous No.5 shirt under former Gremio boss Mano Menezes. The transformation from boo-boy to midfield engine room has been remarkable and it now appears that the much-sought-after commodity of time in football was the vital element. Lucas needed to settle, especially after arriving on a foreign continent, just out of his teenage years, and being deployed in a different position to that which earned the Bola de Ouro, the Brazilian Footballer of the Year, in 2006. A look at the Chelsea team-sheet on Sunday provided a perfect example of how difficult it can be for South Americans to find form and avoid injury in the rough and tumble of the Premier League as Ramires was not even named among the substitutes, despite costing three times as much as his compatriot.
There is a need to not to get carried away. The frustrating elements of Lucas' game remain evident; he started slowly against Chelsea; he can get caught in possession; he can give away clumsy free-kicks. But, as demonstrated by his tackling back in a direct duel with Michael Essien, there is the pride in personal performance that is rated so highly by Dalglish and mistakes have significantly decreased in frequency. 13 Premier League points have been collected under Dalglish in the process of close to 400 minutes without conceding a goal.
Argument
A look at Lucas' Opta statistics during his 90-minute, plus injury-time, outing against Chelsea demonstrates his improvement. His overall pass completion rate was an incredible 88.89 per cent, 81.82% when in the opponents' half of the field. These figures are very similar to his contribution for the 2010/11 campaign to date, with an overall pass completion of 84.02% and 81.08% when in the opponents' section of the field. One goal has been assisted and 14 chances created from a total of 1133 passes.
The obvious argument would be to suggest that the majority of passes have been simple 10-yard side-foots when under no pressure. But there is a skill to decision-making when doing the unsung task. Ask Sergio Busquets. A destructive force has also been added to Lucas' game. Ninety-nine tackles have been made throughout the season at a success rate of 66.67%. Four yellow cards have been collected. The second booking earned in the defeat to Stoke in November was an act of petulance, but also a reflection of new-found aggression. Seven tackles were made against Chelsea. This may not sound a lot, but that is one player recording exactly one third of Liverpool's entire tackle count at Stamford Bridge.
Lucas does not possess the natural pace, power and overall athleticism to dictate midfields, but he is beginning to patrol in front of the defence, whether it be three or two centre-backs, with brilliant effect.
He deserves immense praise amid the clamour for Dalglish to be given a permanent contract and the dissections of Torres' terrible 65-minute Chelsea debut. Lucas embodies what Dalglish seems to be trying to impose upon his team - a personal freedom within a team responsibility.