When the fixtures come out, hope your club avoid a newly promoted side and look forward to a quick date with the top four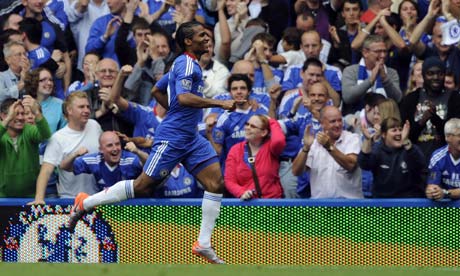 Chelsea sit top of the table after five matches, and Sir Alex Ferguson dismisses it because they've had an easy start (West Bromwich Albion, Wigan Athletic, Stoke City, West Ham United, Blackpool). West Ham lie bottom, and Avram Grant explains it by their tough start (Aston Villa, Bolton Wanderers, Manchester United, Chelsea, Stoke). Liverpool fans see their side fifth from bottom and hope it's because they've begun with Arsenal, Manchester City, West Brom, Birmingham and Manchester United.
But given you have to play everybody twice, does it matter? Will the boost to morale Chelsea have presumably enjoyed in racking up a goal difference of 21-1 carry them inevitably to glory? Will West Ham, crushed by early failure, suffer the sort of psychological collapse that led to Derby County and Sunderland (twice) breaking records for sustained awfulness?
Well, perhaps, perhaps not. A lead can be pressure in itself, and a string of tough games in a row, particularly if interspersed with hard Champions League games, could be debilitating. Once momentum goes, the decline can be rapid, as the examples of Newcastle in 1995-96, Manchester United in 1985-86 and Ipswich Town in 1980-81 show. Then again, the size of modern squads and the greater gulf between the quality of teams at the top and at the bottom probably insulates Chelsea for that sort of collapse. And while Derby had five points after 10 games in 2007-08 and went on to collect only six more, the previous season Sheffield United had had only six points but took a further 32 from the remaining 28 matches.
Rollercoaster of promotion
Is it, though, better to play certain sides at certain times of the season? Managers of teams in the Champions League always make a great fuss about whom and where they play after a European break, and that's something to which we'll hopefully return later in the season, but for now let's look at two theories about who it's best to play near the beginning of the season.
Is it a disadvantage to play promoted teams early? At first sight, it seems to make sense that it is best to avoid newly promoted teams near the start of the season. After all, they'll be high on the adrenaline of promotion, and the gloomy mundanity of repeated defeats won't have had time to take effect. Home crowds, delirious just to be in the Premier League, will be large and noisy, before settling to acceptance later in the season. Newly promoted sides tend to lack depth, so the injuries and suspensions that inevitably occur will impact on them more than on larger squads; get them early, though, and that won't have had time to take effect.
And then there are our memories of Hull City's start in their first season up, when they won away at Arsenal, or of Burnley last season beating Manchester United at Turf Moor. After Tottenham Hotspur had drawn at West Brom (and Sunderland lost there) it was said that that was a tricky fixture to get early in the season, almost as though it were axiomatic that you don't want to get a newly promoted side away from home early on. It feels like it should be true.
If points were distributed evenly over a season, after five home games you would expect a side to have picked up 26.32% of the total points it won at home over the course of the season. If they really do perform better early on, they should pick up a higher percentage of their points in the first five games; over the last 10 seasons, newly promoted teams have won 27.31% of their home points in those first five matches – higher than the expected figure, but not extraordinarily so. Burnley, notably, took 12 of the 26 home points they won last season in those first five games, but after five home games in 2004-05, Norwich had just three, and went on to pick up a further 26 in the 14 that remained.
What if we take the home element out of the equation? Is it any harder to play newly promoted teams in the first 10 games of the season? Not really (and given Blackpool and West Brom were part of Chelsea's supposedly easy start, that was already on some level acknowledged). Again, if points were distributed evenly you'd expect a side to win 26.32% of its total points in the first 10 matches; newly promoted sides over the past 10 seasons have picked up 27.49%. Hull took 20 of 35 from its first 10 games in 2008-09, but Leicester City had only five of 33 in 2003-04.
Rhythm of winning
Is it better to play a Big Four side early on? Again, it seems to make sense that it's better to play the best early on, before they've hit their rhythm and while new signings are taking time to settle. It feels as though there ought to be a greater randomness early on, and that should be of advantage to weaker sides, equalising the contest. And, as Ferguson and Arsenal's Arsène Wenger are forever telling us, it's important for top sides to peak at the right time, not in August but in March.
Again, it's easy to remember examples of Big Four teams slipping up early on – not just Burnley beating Manchester United and Hull winning at Arsenal, but Chelsea losing at Wigan or United dropping points at home to Reading and Newcastle. And again, the statistics suggest the theory is a myth.
The whole notion of a Big Four, of course, was called into doubt last season, and we may soon have an acknowledged Big Something-else, so here I've looked at the four seasons between 2005-06 and 2008-09, when the same four teams – Arsenal, Chelsea, Liverpool and Manchester United – did finish in the top four positions. From the first six games, if points were distributed evenly, you'd expect teams to pick up 6/38 = 15.89% of the points they go on to win over the course of the season. Over that four-season spell, the Big Four picked up 15.31%. So again, the instinctive feeling is confirmed by the figures, but not by enough to make it significant.
What does emerge from those figures, though, is that Manchester United's performances in the opening half-dozen games of the season are weaker than might be expected. They may have collected 15 points from their first six games last year, but that is their best haul in the past decade, and in 2002-03 they collected only seven. Over the last 10 seasons, United have gathered only 13.8% of their total points in the first six games.
So when the fixture list is released, while it may be a slight disadvantage to play a promoted team early, what a side should really be looking for is an early game against Manchester United.